ALGONE WATER CLARIFIER
Small size box of 6 treats 55 gal. each
BUY IN MULTIPLES AND SAVE $$$


1 BOX - $8.99 ea
2 BOXES - $8.84 ea
3-4 BOXES - $7.99 ea
5-10 BOXES - $7.69 ea
11+ BOXES - $7.25 ea


Small Box - treats up to 55 gal/pack - 6 packs/bx
Freshwater and Marine Aquariums

Use Algone to correct nutrient imbalances and to clear cloudy water. Maintaining an established tank
with Algone helps prevent many frustrating problems related to bad water quality. Algone helps keep the aquarium water crystal clear.


Clarifies Water Active compounds clarify dissolved organic and inorganic pollutants, toxins and odor.

Removes Nitrates Nitrogen fixating microorganisms incorporate nitrogen into the cellular mass, while bioactive enzymes assimilate nitrogen from the water column.

Purifies Water Enzymes break down protein, carbohydrates and metabolic waste into insoluble complex structures.

Reef and Plant Safe Trace elements are protected from early precipitation increasing the bio availability for plants, corals, and other organisms.

Natural Balance Algone does not contain chemicals and is safe to use in all aquatic environments.

Fits Every Filter System Placement in any type of filter system is no problem. Other important media
(i.E. activated charcoal) does not need to be removed from your filter.

Trouble Free Bi-Monthly Treatment Use in convenient bi-monthly treatment cycles. No tedious dosing is required.



Algone ® gently clarifies the aquarium by precipitating organic and inorganic particles

Corrects the source of the problem rather then just the symptoms
Has a long-term, lasting effect
Improves the overall appearance of the tank
Eliminates harmful consequences on plants and fish
| | |
| --- | --- |
| | |
| Before Algone | After Algone |
---
Directions For Use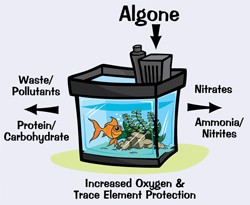 ALGONE is designed to fit directly into most power filter or water filtration systems. Placing the pouches in the filter system exposes circulating water to active sites at the plant fibers for nitrate/nitrite removal and distributes very small but active particles throughout the aquarium, without visually impacting the appearance of the tank. As an alternative, ALGONE™ can also be placed directly into the water by-passing the filter system.

For ammonium reduction, nitrate & nitrite removal and preventive algae control, one pouch is recommended for the treatment of aquariums with up to 55 Gallons.

Aquariums with cloudy water conditions should replace it once every 7 days until water is clear. Depending on the degree of contamination this procedure should take usually 4-6 weeks to complete.

Once treatment is complete we recommend the use of ALGONE once every 2 weeks for future prevention of algae growth.
WHAT IS IT?

ALGONE, an organic product, uses a novel approach for the gentle removal of ammonia, nitrates and nitrites (and their by products), and the reduction of ammonia in freshwater tropical fish - and the marine aquarium. All natural ALGONE is the first organic product for these tasks, using a natural process to address the most important problems related to aquarium maintenance. Most products available for the removal of nitrates, nitrites and ammonium as use chemical compounds. Most of the chemicals used may cause undesirable chemical reactions within the aquarium environment requiring additional treatment.

Even if severely overdosed, ALGONE causes no harm to tropical fish, plants, or the water chemistry. ALGONE has been tested in laboratories and has been in use over a 3-year period with consistent results. Its performance has been rated uniformly as excellent!

WHAT'S IT MADE OF?
ALGONE consists of 100% plant fibers. No chemicals are used or added during the manufacturing process. The pouch material is a paper-based product frequently used in the food processing industry. Paper and ink are FDA approved safe products. All raw materials are subject to extensive quality control procedures before packing and shipping, ensuring consistently high quality and purity for safe use of ALGONE in freshwater tropical fish - and saltwater aquariums.

IS IT SAFE?

One pouch effectively treats water in aquariums holding 15 to 55 gallons of water. Using up to 10 pouches has shown no adverse effect in fish specific parameters of water quality and no signs of fish toxicity. The only known side effect is a change in water color from clear to a light brownish/ yellow color, as a result of severe overdosing.