ANDIS AGC 1 SPEED CLIPPER



A powerful motor clipper designed for professional use. Permanent Magnet Rotary Motor. Direct drive to blade set. Blade speed is 2700 strokes per minute, armature turns 2700 times per minute. Runs cool - does not require a cooling fan and is very quiet. Clipper housing is molded from nylon which is rated 5 times more break resistant than phenolic and is impervious to chemicals.
Maintenance free - no oiling or greasing of internal parts.
Detachable blades for ease of changing and cleaning.


Powerful single speed motor clipper designed for professional use
2700 s.p.m blade speed
Runs so cool, fans and air vents that can become clogged with hair are not needed
Quiet operation to please even the most sensitive animal
Removable drive cap for easy cleaning
Locking blade hinge keeps blade secure
Break resistant housing material, withstands harsh chemicals
Sealed motor for cool, quiet long-life
Maintenance free - no oiling or greasing of internal parts is needed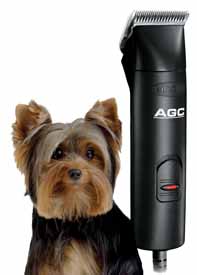 The Andis 7-Piece Detachable Blade Clipper Kit is a powerful and comfortable clipper with easy-to-use detachable blades that make it easy to change blades dependent on the dog's coat and hair length required. Detach the blade with ease for quick cleaning and changing. It comes with Safeguard Combs with rounded tips for pain-free grooming.

Keep both you and your pet calm

The kit is ergonomically designed for maximum comfort and prolonged use. You can now style your favorite pets like a pro while keeping your house and clothes fur-free. It runs so cool that fans and air vents aren't needed.

A powerful clipper with professional capabilities

This clipper is equipped with a 4x4 blade drive with 35% more blade torque than clippers of its kind. It runs at 2,700 strokes per minute for quick and easy clipping.

A powerful clipper with a powerful blade

The blades really give this clipper some extra finesse. With the quick-release button you can change out blades with ease and convenience. Trim to a thin coat with the size 10 blade (1/16-inch). The Single Speed Clipper works with all UltraEdge, CeramicEdge, and ShowEdge blades – the largest selection in the industry – and the Oster A-5 blades (all sold separately).

Works with all Laube snap on blades. A clipper set with function and style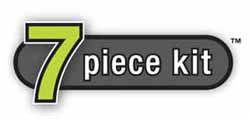 Includes:
Powerful rotary motor clipper
4 attachment combs: 1/8", 1/4", 3/8", and 1/2"
Blade oil
Hard storage case