H2O4K9 WATER BOTTLES - RED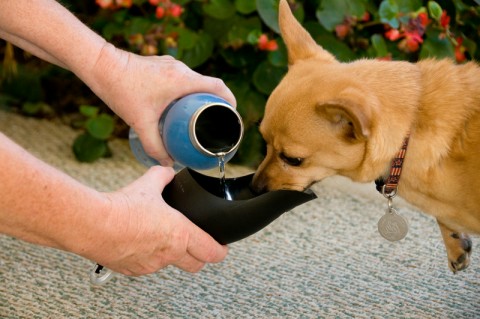 H2O4K9 is specifically designed for the way dogs drink water. No separate bowl is needed because the lid is the bowl. Stylish, rugged, reusable and recyclable - the small size bottle fits most cup holders, backpacks, and bike cages. Made using food grade stainless steel which is non-leaching and BPA-free. For the dog park, mountain hike, or day at the beach, you and your best friend will love this handy, portable safe and sanitary stainless steel water bottle.

he H2O4K9 Dog Water Bottle & Travel Bowl is an easy to use bottle and lid combination that allows you to carry your dog's water and bowl in one attractive, reusable container.
The patented, BPA-free lid is designed to allow your dog to drink naturally.

Bring the water and bowl in one stylish container, and serve it up wherever you go!

The specially designed lid is made to fit a dog's natural drinking style

The H2O4K9 is a portable travel bottle and bowl is easy to use

Sleek design and an assortment of colors makes H2O4K9 bottles unique, just like you

Bottle and bowl are made of human grade safe materials
Heavy duty carabiner is included to attach to crate, back pack, etc



---