MUSHER'S SECRET
Made from 100% safe and natural waxes, Musher's Secret won't stain carpet, is non-toxic, never goes bad, and is easy to use. The semi-permeable shield is absorbed into the paws, allowing perspiration to escape through the toes. Excellent for preventing snowballing and salt burn on your dog's toes in the winter and protects paws against sandburn and hot asphalt in summer.
Apply a small amount on and in-between your dog's toes. If snowballing re-occurs, just reapply. Wipe off excess after use.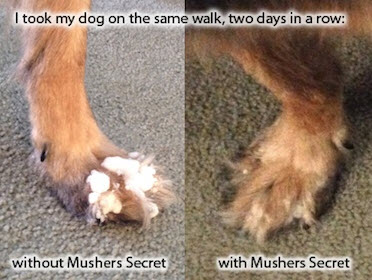 Also can be used for protection and soothing relief from fly bitten ears, open sores, cracked toes, nicks, scratches, and burns. Just apply a small amount to the affected area as needed.

Available in 200g and 1lb container
---
Directions For Use
Spread a light coating of Musher's Secret on the pads and rub in. Mushers will absorb in minutes (rub a little on your hands, when it is absorbed you will know it is absorbed into the pads as well). We use an old rug near the door for application purposes. In very harsh cold or snowy conditions be sure to rub up in between the pads to prevent snowballing.
For year round use, 1-2 times a weeks is sufficient. During extreme weather additional applications may be necessary.
Frequency may depend on length of your walk and weather conditions.