WATER WUBBA GREEN- THE ORIGINAL
Made of neoprene, these Wubbas float!
Perfect for training retrievers

What's a Water Wubba? Imagine 2 rubber balls covered with neoprene with 4 arms coming off to look like a type of octopus. Reinforced seams, fabric, balls and stitching make Water Wubba extremely durable.
They are easy for you to throw and easy for your dog to carry. Our dogs love to chase it and play tug with it.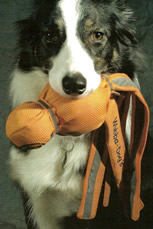 Available in orange, yellow and green neoprene.

THESE ARE THE ORIGINAL WUBBAS MADE IN THE USA - NOT THE CHEAPENED ONES NOW MADE BY THE NEW MANUFACTURER!