WESTON #32 PRO SERIES
2 HP MEAT GRINDER
NEW - MORE POWER!
Why leave your processing to an amateur?

Grinding for a lot of dogs? Starting an all natural dog food business? Just love the sound of grinding bones? This Weston #32 Stainless Steel Pro-Series Electric Meat Grinder and stuffer is a commercial-quality Meat Grinder, ready to serve your needs as a PRO BARFER, professional chef, gourmet cook, outdoors game-processor, or as a guy who wants the job done the fast, easy, efficient way.


With all-metal construction, Weston #32 is solid and sturdy. The powerful 1500 watt, 2 hp. motor is extremely quiet in operation. Easily grinds through 12-18 lbs of meat per minute.

Easily and safely grind meat in-house with this Weston 10-3201-W #32 Pro Series electric meat grinder! Efficiently grinding 12-18 lb. of meat per minute, the unit operates with a 1500W air cooled motor featuring a permanently lubricated design, making operation smooth and maintenance easier than ever. Plus, thanks to the offset head, it effortlessly reaches high speeds for optimal efficiency and performance. The quiet, precision-engineered steel gears maximize this performance.


Handles chicken, duck, turkey, deer, elk, moose and any other type of game meat easily.

Get an industrial grade meat grinder without the high prices at many other places. Will grind chicken, turkey, duck, rabbit and other soft bones for making pet food with ease.

Grinding bones will not void the warranty!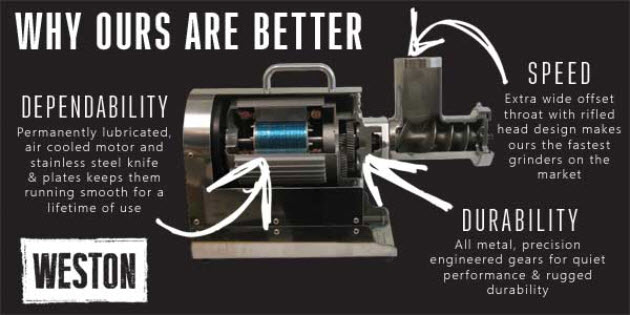 You won't be disappointed with this meat grinder! Watch our video and see the Weston in action!

OUR MOST ASKED QUESTION - "WILL THIS GRINDER GRIND CHICKEN BONES?"
Watch how it handles deer and fish - meat and bones




New! Get amazing value from this commercial-style meat grinder. Built to last with a powerful permanently lubricated, air cooled motor, precision engineered gears and a 5-year warranty.


Featuring a 2 HP, permanently lubricated motor, all metal gear construction, and stainless steel grinding knife, this meat grinder will grind 12-18 lbs. of meat per minute. This grinder disassembles for easy cleaning and sanitation of all its parts, while its non-slip rubber feet ensure that it doesn't slide around while in use. It comes with 2 grinding plates (a coarse 7mm plate and a medium 4.5mm plate) as well as 3 stuffing funnels (20mm, 30mm, and 40mm) with a flange and stuffing star for a variety of meat grinding and stuffing applications.

Features

Permanently lubricated, 2 HP / 1500 watt air cooled motor (120 volt, 60 Hz) runs smooth for a lifetime of use
Grinds 12-18 lbs per minute
Offset head design (patent pending) promotes high speeds
Precision engineered steel gears for quiet performance & rugged durability
Disassembles for easy cleanup
Non-slip rubber feet for added stability
Sturdy handle for carrying & transportation
5 YEAR WARRANTY


Includes:


Auger Grabbing Stomper for simple disassembly and cleanup
Stainless steel grinding knife
Two stainless steel grinding plates: Coarse (7mm) and Medium (4.5mm)
Sausage Stuffing Kit:

Set of three funnels: 20mm, 30mm and 40mm
10mm Snack Stick funnel & high-speed auger
Stuffing star/spacer
---
Specifications
Features:
Grinder size - #32
Equipped with a circuit breaker for safe use
Stainless Steel outer housing for easy clean-up
Reverse switch for easy unjamming
Large Stainless Steel Feed Pan
Stainless Steel Feed Assembly and Auger
Offset Head Design (Patent Pending) allows for maximum meat flow.
Stainless Steel plates and Cutting Blade - size# 32
Large throat measuring ALMOST 3" in diameter.
Processes 1080 lbs/hr
All metal gears that are bathed in oil for smooth quiet operation and a lifetime of use.
Rubber feet for stability.
2 horsepower/1500 watt motor
Permanently lubricated and air cooled.
Power: Standard household 120v 50/60 Hz
Weighs approx. 78 lbs.
Measures approx. 26" x 10" x 18"
5 year limited warranty
UL approved.