C-MON 4.25" SAFETY TIP SCISSORS
Straight or Curved by Klein Cutlery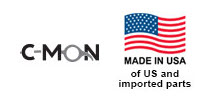 C-MON®, a registered trademark of Peter J. Michels since 1940, is noted for its quality, delivery, and for standing behind its manufactured products. Made in the foothills of the Allegheny Mountains by sixty dedicated cutlery craftsmen, they have set the American standard for scissors and shears.

Peter J. Michels' scissors are guaranteed! If anything at all goes wrong with a C-MON® shear under normal use, Peter J. Michels will repair or replace it at no cost to you - no questions asked!
Peter J. Michels is so confident of its quality that they guarantee the cutting for the life of the original owner. If your scissors become dull for any reason, they will resharpen them free of charge. Just send them along with proof of purchase and $7.00 return shipping fee (for up to 3 pairs) (Continental US only).
Ice-tempered, stainless steel blades with corrugated edges guarantee you that non-slip cutting action you depend on for facial hair trimming. The handles have soft red coating for comfort. Excellent for nose and ear hair trimming.