LIPSYSTEM QUICKSAFE NOOSE SET
3 Piece Set
QuickSafe Nooses are the only grooming control loops in the world with a Snap Open Noose Loop and a Loop Ring on the noose loop. The color coded QuickSafe 3 Piece Noose Set has a large (blue), medium (red) and small (black) noose.


The large noose is normally used as the second safety noose on the rear of the dog or on overweight, over sized dogs where a typical noose is too small.
The medium noose is a typical sized noose for general use.
The short noose is used for tall dogs.


Combine these 3 sizes with the Quicklink sets and you can control just about any size and shape of dog.

The Snap Buckle on the loop means you no longer have to slip the loop over the dog. Just open the loop and wrap it around the dog, snap it closed and adjust the size. This also greatly improves the safety of the dog on the table. You can use one hand to hold the dog and the other hand can unsnap the loop buckle. In the event of an emergency, the dog can quickly be removed from the noose to prevent injury. You no longer have to figure out how to loosen the loop to slip it over the dog's head.

The Loop Ring allows you to attach the noose loop to the front grooming post so the dog can not spin or back away while on the table. This simple feature saves an enormous amount of time and puts an end to many frustrating, repeat problems.


Want to stop the sitting and the sore shoulders that come with keeping them standing?

Do you have any idea how much time and energy you waste trying to keep a dog from sitting? A lot more than you think. That unwanted sitting could be eliminated? Forever! How?


Here is how the

eliminate

s this problem....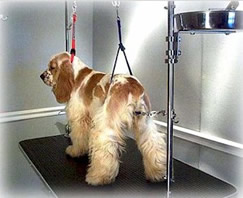 Put a Large "QuickSafe Noose" on the rear of the dog with enough slack so you can pull the loop ring out from between the rear legs. Attach the ring to the back post and the dog can't sit!

This works great for those dogs that require that regular nudge to keep them standing for you. That problem is now eliminated in a very comfortable manner for you and the dog.