NATURAL PET WRINKLE BALM

Specifically made for dogs with skin folds - Pugs, Bulldogs, Boston Terriers etc.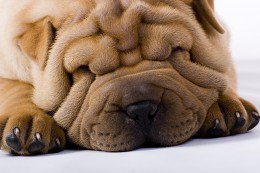 Organic Wrinkle Balm is a patent pending all-natural balm specially formulated to treat and prevent skin fold disease, infection and discomfort. It is fortified with gentle, yet powerful, extracts with anti-fungal properties to eradicate yeast, bacteria and crusty buildup. Wrinkle Balm is loaded with vitamins and antioxidants to improve skin fold condition and prevent future impurity.

Wrinkle Balm is essential for treating and preventing:
Skin fold dermatitis
Yeast and bacterial infections
Redness, chaffing, inflammation
Crusty buildup
Sores, pimples, scabbing
Itchy, flaky skin, hair loss, baldness
Unpleasant odor
If symptoms are neglected and left untreated, issues can lead to much more serious conditions such as pyoderma, a severe bacterial infection and skin disease. Pets with rolls are susceptible to many unfortunate conditions; it is our duty as loving owners to make sure we keep them healthy and comfortable.
Wrinkle balm is great for using around the face! It is scent-free, soothing, and helps to diminish the disconcerting "stinky face". Big wrinkles are beautiful – lets keep them that way!
---
Specifications
Ingredients
ORGANIC HEMPSEED OIL
| Potent antioxidant with prostaglandin mediating and anti-inflammatory properties
---
ORGANIC SHEA NUT BUTTER
| Humectant and emollient, anti-inflammatory with natural sunscreen
---
ORGANIC COCONUT OIL
| Heavy duty moisturizer, proven analgesic, anti-inflammatory and anti-fungal
---
ORGANIC AVOCADO OIL
| Coming Soon!
---
ORGANIC JOJOBA OIL
| Bacteriostatic fungicidal moisturizer that mimics skin's sebum, rich with minerals
---
CANDELILLA WAX
| Vegan alternative to beeswax with high ester, fatty acid and moisture retaining properties
---
ORGANIC OLIVE LEAF EXTRACT
| Coming soon!
---
CALENDULA EXTRACT
| extremely soothing, softening, healing, antioxidant with antibacterial properties
---
ROSEMARY EXTRACT
| Natural preservative, anti-inflammatory and potent antioxidant
---
NATURAL VITAMIN E
| Extreme antioxidant, preservative, boosts collagen production and cell regeneration