COOL PUP HARNESS

The innovative design of our Cool Pup Harness exchanges the dog's body heat with the coolness of cold water stored in the harness to keep pets comfortable. Made of a lightweight and heat-releasing SPF fabric, this practical harness stays cool for up to 6 hours!

Simply soak the harness in cool water and place it into the freezer. Harnesses are fully adjustable for an easy fit. With quick-release plastic buckles, and nickel-plated D-rings for leash attachment.

Perfect for dogs that may overheat in hot weather
Harness can be soaked in cool water to lock in a cool temperature
Includes cooling packs
Fabric is designed to exchange body heat from dog with coolness in coat
Each comes with removable, reusable ice packs (amount of packs depends on size)
---
Specifications
Sizing guide: Measure the broadest part of dog's chest as shown.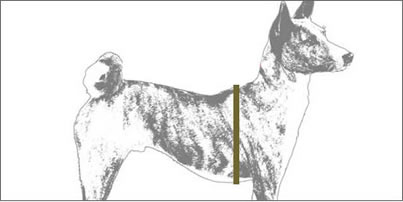 Harnesses are available in the following sizes
:

X-Small Harness fits chests 11"-13" (neck width is 8")
Small Harness fits chests 12"-17" (neck width is 10")
Medium Harness fits chests 16"-22" (neck width is 13")
Large Harness fits chests 19"-26" (neck width is 15")
X-Large Harness fits chests 24"-32" (neck width is 16")