COOL K-9 II COOLING VEST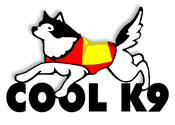 Stores & Clubs:
Buy 6 or more and price drops to $12.74 (Save 15%)
Buy 12 or more and the price drops to $10.49 (Save 30%)

Using water absorbing polymer crystals sewn into supplex fabric, the evaporative process allows heat to physically transfer from the dog to the jacket, similar to our body's own manner of cooling through perspiration, keeping your dog cool and protected from heat exhaustion.

The jacket absorbs water quickly, but releases it slowly. By submerging the jacket in water for just a few minutes, the crystals absorb enough to keep the evaporative process going for up to several days. Even when fully soaked, the jacket holds the water, keeping your dog cool and dry.

The jacket can be charged over and over.

When winter comes, a dry jacket becomes an insulating jacket, helping to cut the cold. In addition, COOL K-9 is equipped with reflective strips to reflective strips to make your dog visible at night. The jacket is a year-round safety device. Hikers, bikers, walkers, runners, hunters, and dog-lovers alike have applauded COOL K-9.

Submerge the jacket by placing it in a basin of water. Soak for 30 minutes or until fully saturated.

Wash by hand, no harsh abrasives. Hang to dry when not in use. DO NOT FREEZE!


---
Specifications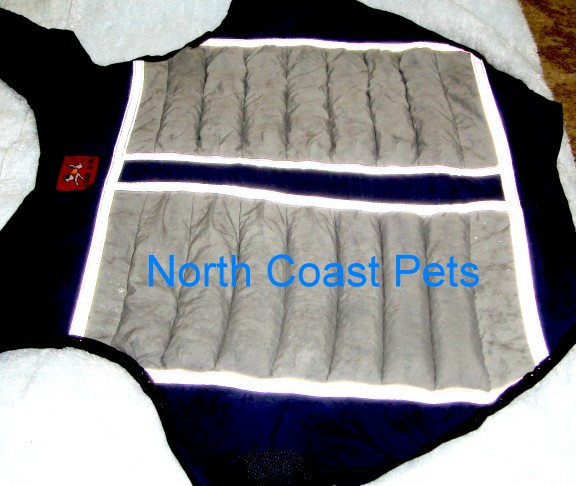 Average Sizes:

Small: 5 - 30 lbs, fits 15" - 22" Chest Size
Medium: 30 - 60 lbs, fits 22" - 31" Chest Size
Large: 60 - 100+ lbs, fits 29" - 39" Chest Size
Fully hydrated, the cooling tubes will be between 2/3 and fully filled. Allow to soak for 45-60 minutes to fully hydrate (overnight initially).
A hydrated, large size vest weighs approx. 2.5 lbs.