These Muttluks are black with reflective trim.
Muttluks have waterproof fabric on the exterior- keeps dogs dry and clean.
The Muttluks' inner fleece lining keeps paws warm and comfortable.
Quick drying cuffs are versatile and easily adapted for dogs with short or long legs.
Self-tightening Velcro® straps allow for an easy, secure and quick fastening strap that ensures a snug and comfortable fit.
3M Scotchlite™ reflective material on the back of the Velcro® strap provides safety for dogs by offering nighttime visibility.
Muttluks' boot bottoms are made from treated, water and salt resistant leather. • The leather toe cover (available in sizes M-XXL) offers protection and durability for larger dogs; with the Cordura® Nylon toe cover available for smaller dogs (sizes Itty-Bitty to Small). • The entire Muttluks boot is stitched with heavy-duty industrial bonded nylon thread.
Available in eight sizes to fit breeds from Chihuahuas to Great Danes and everything in-between.
Distinctive and reusable cloth mesh packaging can be used for storing or washing Muttluks, or for general storage.
A customer says...

We received the Muttluks just in time for the snow last weekend in Illinois. Our toy poodle has worn them every time he has been out and they are the best boots we have ever had! They keep his paws warm and his legs and paws snow-free! He loves running through the snow, but had stopped doing it because his legs would get snow buildup! The first time he went out with the Muttluks, he went straight to the deepest snowdrift he could find and plowed right through it! He is jumping over and into the snow again!! Thank you for carrying such good products.

R. Nelson

HOW TO MEASURE FOR MUTTLUKS
Measure from the end of the pad to the tip of the nail.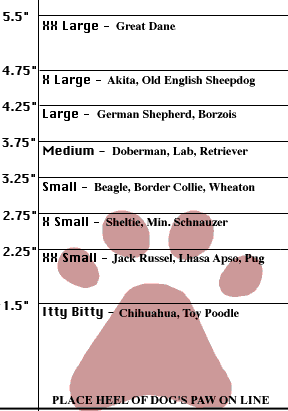 ---
Specifications
Waterproof fabric on the exterior keeps dogs dry and clean
Inner fleece lining keeps paws warm and comfortable
Quick drying cuffs are versatile and easily adapted for dogs with short or long legs
Self-tightening Hook & Loop straps allow for an easy, secure and quick fastening strap that ensures a snug and comfortable fit
3M Scotchlite™ reflective material on the back of the strap provides safety for dogs by offering nighttime visibility
The boot bottoms are made from treated, water and salt resistant leather
The leather toe cover (available in sizes M-XXL) offers protection and durability for larger dogs; with the Cordura® Nylon toe cover available for smaller dogs (sizes Itty-Bitty to Small)
Distinctive and reusable cloth mesh packaging can be used for storing or washing Muttluks, or for general storage
The entire boot is stitched with heavy-duty industrial bonded nylon thread