K9 TOPCOAT ARCTIC FLEECE BODYSUIT

COLOR POSSIBILITIES: BLACK, ROYAL BLUE OR NAVY BLUE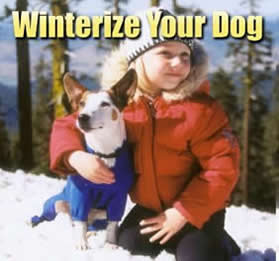 | | |
| --- | --- |
| | |

We searched long and hard to find sweaters and jackets that actually WORKED! We wanted a jacket that didn't make our dog look like a circus clown, something that actually kept her little Doberman butt warm. We found it with the K9 Topcoat Arctic Fleece.

The Arctic Fleece is a unique close-fit bodysuit for dogs made in the USA by a world-leading sportswear manufacturer. The Arctic Fleece keeps dogs warm and comfortable. Made with super-soft microfleece (which creates a great thermal layer), dogs receive all the warmth of a heavyweight fleece in this lightweight, super comfortable bodysuit. Its 4-way stretch material moves with the dog, is easy to put on and stays in place even when the dog is quite active.


The Arctic Fleece has the warmth of a winter jacket, with the comfort of flannel pajamas and the fit and style of fine sportswear. With the unique close fit design, this 4-way stretch Arctic Fleece body suit provides exceptional warmth and comfort for your dog. Made with super-soft micro fleece on the inside (a great thermal layer), your dog will get all the warmth of a heavyweight fleece in this lightweight, super comfortable body suit.
Fantastic Fit
Stays in Place
Easy On/Off
Covers the Belly
Doesn't Hinder Movement
Warm & Cozy
---
HOW TO MEASURE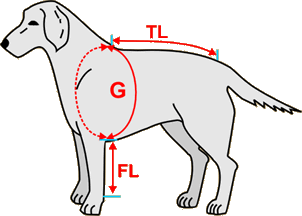 Top Line - Measure from the middle of the shoulder blades along the back bone to the dock of the tail.

Girth -- Measure the distance around the girth from just behind the front legs.

Front Legs - Measure the length of the front legs from the elbow to the dew claw.
Compare your dog's measurements with those listed in the size categories below to determine the most appropriate size for your dog. If your dog's measurements fit into more than one category, use the Top Line measurement alone to select the best size. We will be happy to answer any questions regarding size selection - just give us a call.


Which dog looks more comfortable?
Reduces the amount of dog hair and dander left on carpet, furniture, bedding and clothes
Decreases the amount of dirt, stickers, fleas and ticks left in the home by dogs
Keeps dogs clean
Reduces the number of stickers/burrs in fur
Reduces the number of fleas jumping onto dogs
Reduces likelihood of ticks latching on
Reduces dog's exposure to biting insects
Keeps fur from matting due to snow or mud
May reduce risk of skin cancer
Show Dogs: Keeps dog's coat clean and protected. In many cases, reduces grooming time.
Rehabilitation: Helps keep dogs from bothering/irritating wounds, stitches, rashes and medicated areas located on body and legs. Ideal for dogs with allergies. Easier on you and your dog than using thebulky plastic Elizabethan (cone shaped) collars or ill fitting garments.

Automobiles: Reduces amount of dog hair, dander, dirt, stickers/burrs, and fleas left in your vehicles.
---
| | | |
| --- | --- | --- |
| | | |
| Lycra Bodysuit Size 7- Very snug fit=Great! | Lycra Bodysuit Size 9- Very snug fit=Great! | Red 11 " Lycra Size 11- Loose fit- Too long in length and baggy in the body- Poor fit" |
NOTE:
If you have measurements in more than one size, please use the TOP LINE measurement as the most important in determining the size.
Be sure to measure from the SHOULDER BLADES to the BASE OF THE TAIL



SIZING CHART
| | | | |
| --- | --- | --- | --- |
| SIZE | TOPLINE (IN) | GIRTH (IN) | APPROX. WEIGHT (LBS) |
| 0 | 5-9 | 7-12 | 4-9 |
| 1 | 8-12 | 11-16 | 8-14 |
| 2 | 11-14 | 15-19 | 13-20 |
| 3 | 13-18 | 18-23 | 19-30 |
| 5 | 17-22 | 22-25 | 28-50 |
| 7 | 21-25 | 24-29 | 47-65 |
| 8 | 21-25 | 28-34 | 60-80 |
| 9 | 24-29 | 28-34 | 70-95 |
| 11 | 28-36 | 30-36 | 90-120 |
| 12 | 30-38 | 34-41 | 110-165 |



BREED SIZING TABLE
BREED

Type

Size

Afghan Hound

7 or 9

Akita

11

Australian Cattle Dog

5

Basenji

2 or 3

Beagle

2 or 3

Bearded Collie

5

Bernese Mountain Dog

9 or 11

Bichon Friese

2 or 3

Bloodhound

11

Borzoi

11 or 12

Bouvier des Flandres

9 or 11

Boxer

7 8 or 9

Briard

9

Brittany

5

Bulldog

Hard to fit.

Bull Mastiff

11

Cavalier King Charles Spaniel

2 or 3

Chesapeake Bay Retriever

7 or 8

Chihuahua

0 or 1

Chinese Crested

1 or 2

Chow Chow

7

Collie

7 8 or 9

Coonhound

7 8 or 9

Corgi

3 or 5

Dachshund

1 or 2

Dalmatian

5 7 or 8

Deerhound

11 or 12

Doberman

7 8 9 or 11

Elkhound

7

Eskimo

5

Foxhound

7

German Shorthaired Pointer

5 7 or 8

Great Dane

12

Greyhound

9

Griffon

1 or 2

Harrier

7 or 8

Husky

7 or 8

Keeshond

5

Komondor

12

Kuvasz

11 or 12

Labrador

7 8 or 9

Lhasa Apso

3

Malamute

11 or 12

Malinois

5 or 7

Maltese

1

Min Pin

1 or 2

Newfoundland

11 or 12

Papillon

0

Pekingese

0 or 1

Pitt Bull

5 7 or 8

Pomeranian

0 or 1

Poodle

Toy

1 or 2

Mini

3

Standard

7 8 or 9

Portuguese Water Dog

5 or 7

Pug

2 or 3 (tough to fit)

Puli

5 or 7

Golden Retriever

7 8 or 9

Rhodesian Ridgeback

8 9 or 11

Rottweiler

9 or 11

Saint Bernard

12

Saluki

5 or 7

Samoyed

7 or 8

Sckipperke

1

Schnauzer

Mini

2

Standard

5

Giant

11

Setter

English

7 8 or 9

Gordon

7 8 or 9

Irish

8 9 or 11

Shar Pei

7-8

Sheepdog

Old English

11

Shetland

3

Shepherd

Australian

5

English

5

German

7 8 9 and rare 11

Shih Tsu

2 or 3

Spaniel

Clumber

5 or 7

Cocker

3

Springer

5

Field

5

Terrier