SHOO TAG - DOG
Safe Protection Against Flies or Mosquitoes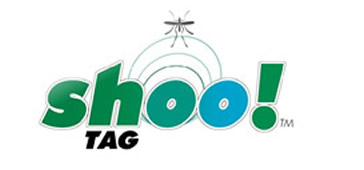 If you are looking for a non-toxic, chemical-free way to protect your pets from pests then Shoo!TAG™ is the product for you.

Shoo!TAG™ combines cutting-edge science and technology to produce a "green" product that uses electromagnetic frequencies that eliminates the use of toxic chemicals on your animals.

Shoo!TAG™ is leading the way in the pest management industry while being safe for pets, people and the Planet.
Shoo!TAG is the revolutionary, non-toxic "tag" that uses electromagnetic frequencies to create a protective barrier from pests that lasts up to 4 months!

The key to Shoo!TAG™ is the three dimensional electromagnetic static field embedded in the magnetic strip. Introducing the Shoo!TAG™ into the body's electrical field produces an expanding barrier effect, keeping targeted pests away.
How it works:
Using the animal's electrical field, Shoo!TAG™ creates a barrier protecting your pet from targeted pests, reaching maximum strength within 36 hours after attachment.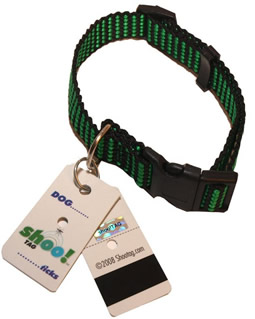 Shoo!TAG™ is the ultimate solution for protecting your pets from targeted pests.
Shoo!TAG™ uses no harmful chemicals, is odor-free and is safe for pets, people and the Planet.
Shoo!TAG™ is easy to use; simply remove from the packaging and attach to the pet's collar with the provided split ring...that's it!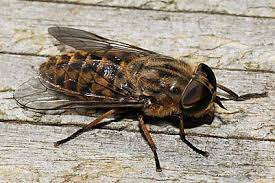 Uses NO chemicals, emits NO odors. It delivers a continuous ultrasonic pulse that flies can't stand, thereby repelling insects that can cause harm to your pets.
SAFE AND EFFECTIVE FOR ALL OUTDOOR ACTIVITIES
PROVIDES UP TO 4 MONTHS PROTECTION FOR YOUR PET
SAFE PROTECTION FOR ALL CATS, DOGS, COWS AND HORSES (1 UNIT IS ENOUGH TO PROTECT A HORSE)
INVISIBLE AND INAUDIBLE TO PETS
30 Day Manufacturer's guarantee