KENNEL GEAR STAINLESS STEEL PAILS
WITH MOUNTING BLOCK 1/2" SCREWS


The finest in stainless steel food/water pails. When used with the quick latch system, your pet will no longer be able to knock over his food or water.
Available in 1, 2, 4, 6, or 9 quart capacities for all size pets.
The pail kit includes a bowl with an insert block attached and Kennel Bar Mount system. This allows the user to attach the bowl to cages,kennels, crates or solid surfaces. Once the Kennel Bar Mount has been installed, the pail can easily be inserted into the mount and removed.
All Kennel-Gear products fit the different Kennel Gear mounting systems.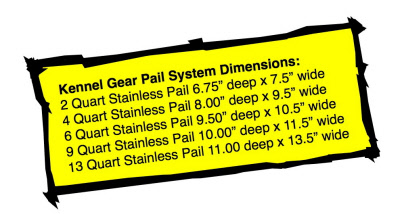 ---
Specifications