PAWZ DISPOSABLE DOG BOOTS

These boots were made for walkin'-and protecting precious paws from mud, salt, fire ants, pesticides, chemicals or snow.

Dogs who refuse to wear other boots feel comfortable wearing these natural rubber boots because they allow your pet to feel the ground and so provide him a sense of security.

Easy to put on; (check out the PAWZ JAWZ) no zippers or straps.

Includes twelve waterproof boots that can be used multiple times.

Fits like a sock, moves with your dog, allowing for full paw motion and maximum comfort. Allows your dog to feel the ground, unlike a boot.

DOGS THAT WON'T WEAR BOOTS WILL WEAR PAWZ

Recommended by Veterinarians to protect their patients.

Packaged in a box of 12. Each size is a different color.


ADVANTAGES:
Reusable
Waterproof
Bends with Paw
Guaranteed to Stay On
Biodegradable
Serious Protection
Inexpensive
Dogs Love Them
Vet and Groomer Approved

PROTECT YOUR PET FROM: •Ice •Lawn Chemicals •Salt •Snow •Fire ants •Swimming pool liner tears •Mud •Pad rashes •Post-grooming dirt •Post-surgical infection
---
Specifications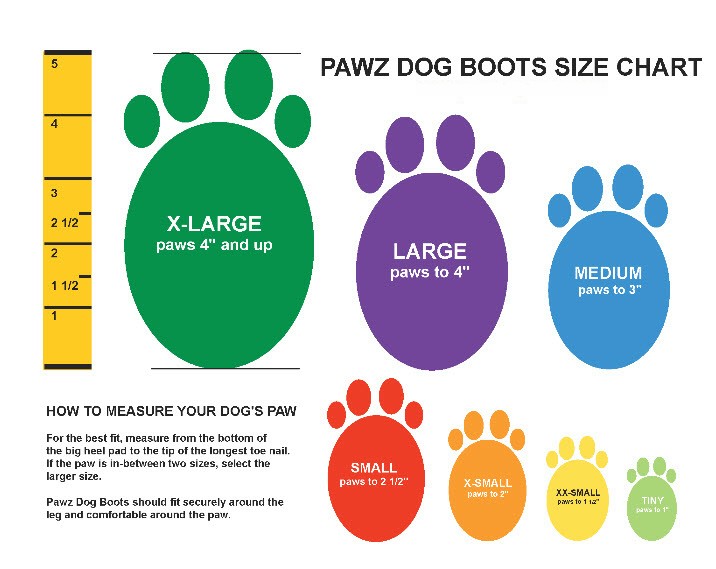 For the perfect fit, measure paw from front to back, including toenails.

Sizes: Tiny, XXS, XS, S, M, L, XL (please see below).

Tiny (for toy breeds and little dogs with narrow legs)

XX-Small (for paws 1-1.5")

X Small (for paws 1.5-2") Small (for paws 2-2.5")

Medium (for paws 2-3")

Large (for paws 3-4")
X Large (for paws 4-5")