PET FIRST AID TRAUMA KIT
All the necessary first aid products in 1 place
SCENARIO: Your dog just tried jumping a 5 foot chain link fence only to come up a little short. He has just torn open his entire belly and comes running back to you.
WHAT DO YOU DO? You could run up to the local CVS Pharmacy for bandages but you likely won't find anything bigger than 3" x 3".
OR
You could run inside the house and get your New Trauma Kit that contains everything that you will need to patch your dog up and get him safely to the vet.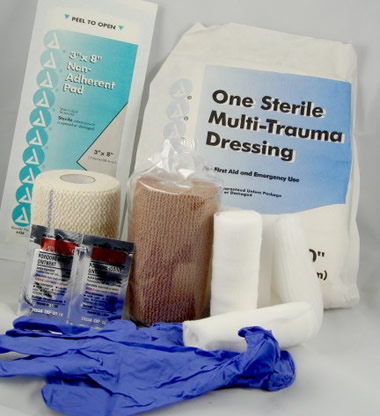 EACH TRAUMA KIT CONTAINS:
Sterile trauma dressing 12" x 30"
Sterile wound dressing non-adherent pad 3" x 8"
Povidone-Iodine ointment

Gauze sponge pads 4" x 4"
2 rolls conforming stretch gauze
Safe-Wrap™ Self adherent easy tear compression bandage 4" x 5 yds.
Conforming lightweight easy tear stretch tape 4" x 5 yds.

1 pr nitrile examination gloves