VISIGLO PAWS COLLAR WITH LED LIGHTING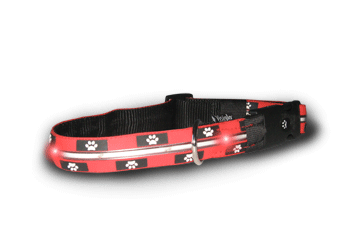 All Visiglo collars and leashes are made of top quality ripstop nylon.

The quick release clasps on the collars are of high impact ABS plastic and the leashes have self closing metal clasps.

Visiglo products utilize a unique technology called Glowtronix.

Battery powered, extremely bright, flexible, and durable,

Glowtronix is superior to other illumination methods because of Active Illumination™.

Instead of simply flashing on and off, the designs are animated, bringing the collar to life and further increasing the product's visibility and effectiveness.


Small 10"-14"
Medium 13"-20"
Large 16"-26"


Uses (2) #2025 Batteries (included)