HURLEY - SMALL SIZE 6"
By West Paw Design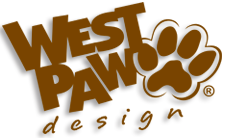 We look long and hard to find toys that can pass the tests of our quality control department (testing above). This one passed. Hurley is a soft rubber bone shaped toy made of a material called Zogoflex. Don't ask us what it is, but it is Zogoflex is nearly INDESTRUCTIBLE! In fact, if your dog does destroy it, the manufacturer will replace it (return to them, not us).

The Hurley dog toy, made of state of the "dog" material, Zogoflex, is so strong it will challenge even the most aggressive breeds (some still destroy it though).

The design comes from a dog's three favorite toys: a bone, a stick and a ball. Hurley is three indestructible toys in one! Chew it, bounce it, fly it or float it and unless it gets lost or buried, it will be your dogs best friend for a long, long time. Hurley is available in 3 sizes. Use the large for playing and keep the small in a shirt pocket for attention while heeling. Mini is great for small dogs.