PAW SOOTHER ROLL-ON
SOOTHES DRY, CRACKED FEET!
Paw Soother is an organic, vegan, 100% all-natural oil and herbal-based blend specially formulated to heal rough, chapped, dry dog paw pads.

For no-mess application, simply uncap the product, twist up from the bottom, and glide the soothing balm directly over your dog's paw pads.

Your dog runs around outside on a number of surfaces from hot concrete to thick snow, all of this causes wear and tear on their precious little paws. If the bottom of your dog's paw feels rough or broken they need moisturizing relief.

If left untreated, dry, cracked paw pads can cause discomfort and even limping.

By applying Paw Soother to your dog's paws you can lock in moisture and reverse damage. With only a few applications of our organic all-natural dog product, your beloved pet's paws will become smooth to the touch. Dogs love to lick their paws, so to protect your four-legged friend, every last ingredient that goes into our vegan dog-products are carefully sourced. Safe enough for health-conscious humans but made especially for your dog, Paw Soother transforms rough paw pads to incredibly softpaw pads.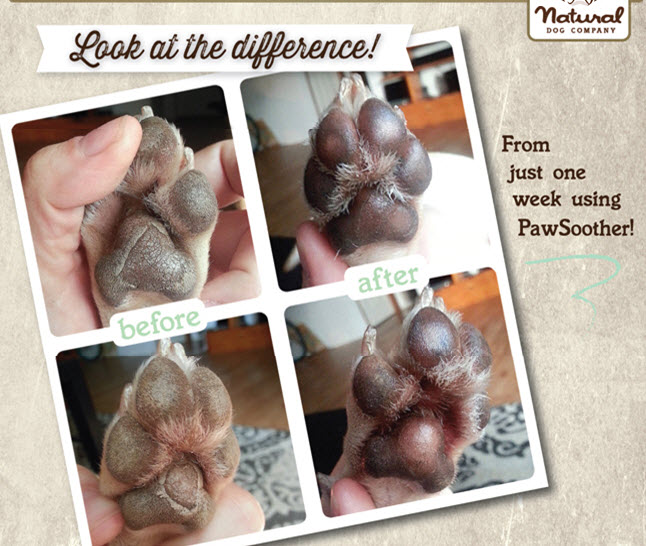 PAW SOOTHER INGREDIENTS: Organic Cocoa Butter, Organic Shea Nut Butter, Grape Seed Oil, Organic Hempseed Oil, Candelilla Wax, Organic Jojoba Oil, Organic Sunflower Oil, Organic Sweet Almond Oil, Tea Tree Oil, Natural Vitamin E, Rosemary Extract

---