ICELAND PURE SARDINE ANCHOVY OIL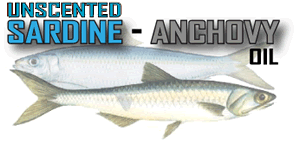 This latest addition comes from 100% wild-caught Sardines and Anchovies, which are plentiful throughout the world. It is 60% North Atlantic Sardines and 40% Chilean Anchovies. As with all Iceland
Pure oils, this oil is screened for mercury and other toxins, and tested by an independent third party for guaranteed analysis.

This liquid gold of course comes packed in their exclusive brushed aluminum bottle to prevent light degradation and plastic contamination!
One teaspoon contains: 460 mg DHA, 736 mg EPA, Docosapentaenoic Acid (DPA) 92 mg
Available in 17oz and 33oz pump bottles
---
Directions For Use
Icelandic Recommendation: 1 Teaspoon per 20 pounds of body weight once a day

U.S. Vets Recommendation: (Provided by Dr. Keith Wingardt from The Animal Healing Center)

Dogs & Cats 50lb or under 1,000mg x day = 2 pump daily

Dogs greater than 50lb 2,000mg x day = 3 pumps daily

Dogs greater that 100l 3,000mg x day = 5 pumps daily

or as recommended by your Veterinarian

OK to refrigerate
---